September is National Food Safety Education Month. This is also a time to return to school and learning, so it is a good time to learn about food safety in ready-to-eat and perishable foods often packed in school lunches.
Listeria is one of the most common foodborne bacteria and is found in a wide range of foods; from ready-to-eat to produce and meat.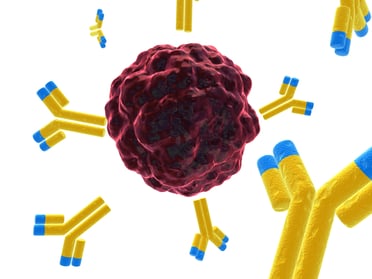 The latest draft guidance released by the U.S. Food and Drug Administration, "Control of Listeria monocytogenes in Ready-To-Eat Foods," supports ongoing efforts by industry and government agencies to reduce the risk of Listeria monocytogenes in ready-to-eat foods (1). The guidance includes recommendations for controls involving personnel, cleaning and maintenance of equipment, and sanitation, as well as for treatments that kill Listeria and prevent it from growing during storage of food between production and consumption.
The guidance emphasizes the importance of routine testing for Listeria. Therefore, it is important to learn about the methods and reagents that can be used to detect Listeria to prevent foodborne outbreaks.
What is Listeria?
Listeria is a gram-positive, rod-shaped bacterium that can grow under either anaerobic or aerobic conditions in the soil and on plants and animals (1,2). There are six species of Listeria, of which L. monocytogenes is a major foodborne pathogen and causes human listeriosis (2,3).
According to the Centers for Disease Control and Prevention (CDC), listeriosis can cause symptoms that include fever, muscle aches, diarrhea, or other gastrointestinal problems. Infections during pregnancy can lead to miscarriage, stillbirth, premature delivery, or life-threatening infection of the newborn. People with listeriosis usually report symptoms starting 1 to 4 weeks after eating food contaminated with Listeria.
The CDC estimates that 1,600 people get listeriosis each year, resulting in 260 deaths. Pregnant women and their newborns, adults aged 65 or older, and people with weakened immune systems are most susceptible to the infection. Of all foodborne pathogens tracked by the CDC, L. monocytogenes had the second highest case fatality rate (21%) and the highest hospitalization rate (90.5%) (4).
Food recalls due to Listeria
The ubiquity of L. monocytogenes enables it to enter food processing environments and the food chain at multiple points. Moreover, the ability of the bacterium to grow at refrigerated temperatures increases the risk of food contamination. Due to these reasons, the ingestion of Listeria is an exceedingly common occurrence and the foodborne illness caused by the bacteria has raised significant public health concern in the United States, Europe, and other areas of the world (2).
Listeria outbreaks of foodborne illness occur most often from exposure to contaminated dairy products, soft cheese, unpasteurized milk, prepared meat products including turkey and deli meats, hot dogs, seafood, sprouts, and produce (2).
This year alone, there have been several food recalls due to Listeria contamination resulting in loss of lives, severe health hazards, and huge loss for food companies. Most notably, the recall of soft raw milk cheese made by Vulto Creamery. This resulted in a multistate outbreak of listeriosis leading to two deaths and six hospitalizations in Connecticut, Florida, New York, and Vermont (5). This was followed by recall of several cheese products in February of this year by Sargento Foods Inc., one of the largest cheesemakers in the United States, due to possible Listeria contamination (6). RBR Meat Company Inc. recalled more than 21,000 pounds of its Marketside Supreme frozen pizza due to exposure to Listeria monocytogenes. The USDA classified this recall as a Class I recall, which means it is a health hazard situation where there is a reasonable probability that the use of the product will cause serious, adverse health consequences or death (7). More recently, in May this year, Aunt Jemima announced a major recall of all of its frozen pancakes, waffles, and French toast due to a possible Listeria contamination (8).
How can SeraCare's BacTrace® antibody help prevent Listeria outbreak?
SeraCare has developed BacTrace antibodies that are used in AOAC methods and by the USDA and FDA (9). BacTrace Goat anti-Listeria Spp. Antibody is a broad-spectrum polyclonal antibody to Listeria spp., which offers the high sensitivity and specificity that is required for rapid screening methods used for detecting Listeria in food.
Listeria spp. and L. monocytogenes rapid tests and screening methods that meet FDA regulatory standards of detection utilize several different technologies, including immunomagnetic separation, EIA and ELISA-based assays incorporating fluorescent or colorimetric detection, and simple lateral flow assays incorporating immunochromatographic technology.
However, rapid detection of Listeria using these assays is dependent on antibodies with a high degree of specificity and sensitivity for the organism. To this end, SeraCare has developed BacTrace polyclonal antibodies that are highly specific for Listeria and can recognize all six species of Listeria with low cross-reactivity against related bacteria. The polyclonal antibody is more sensitive than many commercially available anti-Listeria monoclonal antibodies. In addition, the antibody is also very sensitive and is capable of detecting as low as 104 cfu of Listeria cells.
BacTrace antibodies are recommended and used in AOAC methods, and by the USDA and FDA (9). BacTrace antibodies can be used as capture or detection antibodies, offer high standards for potency, minimal cross reactivity, and lot-to-lot consistency, and are manufactured under SeraCare's ISO 13485-certified quality management system.
What does BacTrace antibody offer?
BacTrace Anti-Listeria Spp. Polyclonal Antibody offers high specificity, sensitivity and avidity. The data below describes the characterization of these parameters.
The specificity of the BacTrace anti-Listeria spp. antibody was assayed by direct ELISA method. As shown in Figure 1, the antibody showed broad spectrum activity against different serotypes of L. monocytogenes and other Listeria spp. with minimal cross-reactivity to Enterococcus faecelis and other non-Listeria organisms. Thus, the BacTrace polyclonal antibody offers an advantage in detecting multiple strains of Listeria compared to monoclonal antibodies that are specific to a single antigen.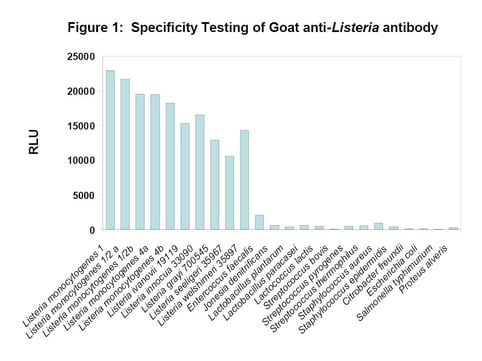 Figure 1. The specificity assay was performed in direct ELISA format. RLU represents Relative Light Units when the assay was read by adding the chemiluminescent substrate LumiGlo (SeraCare).

The sensitivity of the BacTrace anti-Listeria spp. antibody was assayed by a sandwich ELISA, in which it was compared to other commercially available antibodies. Results from the assay where heat-killed Listeria monocytogenes 1/2a were prepared at dilutions of 102 to 106 cfu show that the limit of detection was as low as ~103 to 104 cfu. The results indicate that this antibody has excellent sensitivity and specificity to detection of Listeria spp. (Figure 2).

Avidity of the antibody was evaluated using ammonium thiocyanate. The avidity of the SeraCare BacTrace antibody was compared to the avidity of other commercially available anti-Listeria antibodies. The BacTrace antibody had the highest overall avidity for a range of Listeria spp. and was similar or higher than other commercially available antibodies for Listeria monocytogenes serotypes (Table 1).
Antibody avidity is important because it measures the strength of the antibody-antigen interaction and how difficult it is to disrupt this interaction. This parameter is particularly important when using the antibody for immunocapture of bacterial cells from complex food samples.
Table 1: Avidity (IC50 values) of anti-Listeria spp. antibodies

SeraCare Goat anti-Listeria

Antibody B

Antibody C

Listeria monocytogenes
(Serotype 1)


1.4

1.4

1.0

Listeria monocytogenes (Serotype 1/2a)

1.5

1.4

0.5

Listeria monocytogenes (Serotype 4b)

1.25

1.25

0.75

Listeria innocua

1.3

0.8

0.4

Listeria ivanovii

1.3

1.4

0.75

Listeria grayi

1.0

0.8

0.5

Listeria seelingeri

1.0

1.3

0.8

Listeria welshmeri

1.2

0.75

0.4
Table 1 Characterization of the avidity of the anti-Listeria spp. antibody and other commercially available anti-Listeria antibodies. Avidity testing was performed using the thiocyanate method for inhibiting antibody-antigen interactions. IC50 values are shown for each antibody with each Listeria spp. strain. Note that a higher IC50 corresponds to a higher avidity.
Conclusion:
Contamination of food with Listeria is a major health concern that has resulted in several recalls in recent times. SeraCare offers BacTrace anti-Listeria antibody that enables rapid and efficient detection of Listeria spp. for this purpose.
BacTrace anti-Listeria antibody provides high specificity with a broad spectrum of reactivity against all Listeria spp. and serotypes, but low cross-reactivity against non-Listeria organisms; thus, making the BacTrace polyclonal antibody more sensitive than many commercially available monoclonal antibodies.
BacTrace anti-Listeria antibody provides improved sensitivity with a detection limit of <104 cfu for both heat-killed cells and live cells.
BacTrace anti-Listeria antibody provides high avidity against Listeria spp. as compared to other commercial antibodies.
BacTrace antibodies are recommended and used in AOAC methods and by the USDA and FDA.

To learn more about our BacTrace anti-Listeria Spp. Polyclonal Antibody, click here.
References:
https://www.fda.gov/downloads/food/guidanceregulation/guidancedocumentsregulatoryinformation/ucm535981.pdf
Bortolussi, R, "Listeriosis: A Primer," CANADIAN MEDICAL ASSOCIATION JOURNAL, Vol. 179, No. 8, pp. 795-7 (Oct. 7, 2008), online at http://www.cmaj.ca/content/179/8/795.long
Lorber, Bennett, "Listeria monocytogenes," in Mandell, Douglas, And Bennett's PRINCIPLES AND PRACTICE OF INFECTIOUS DISEASES, Fifth Edition, Chap. 195, pp. 2208-14 (2000, Mandell, Bennett, and Dolan, Editors).

http://www.cnn.com/2017/02/23/health/sargento-cheese-recall/

http://www.cnn.com/2017/03/16/health/20000-lbs-of-frozen-pizza-recalled/?iid=ob_homepage_deskrecommended_pool

http://www.sheknows.com/food-and-recipes/articles/1133905/ben-jerrys-aunt-jemima-recall?utm_source=SheKnowsDailyRecipe&utm_medium=email&utm_campaign=20170508&utm_term=main1&utm_content=9566217
Fei Wang., et al, Current Trends in Detecting Non-O157 Shiga Toxin–Producing Escherichia coli Food. FOODBORNE PATHOGENS AND DISEASE, Volume 10, Number 8, 2013