There are many challenges for pediatric patients struggling with recurrent or refractory cancer but a recent report and accompanying editorial published in the Journal of American Medical Association brings new hope for patients and their families.1 2This three year study also demonstrates how the principles of precision medicine can be successfully applied with existing DNA and RNA sequencing technologies for many patients.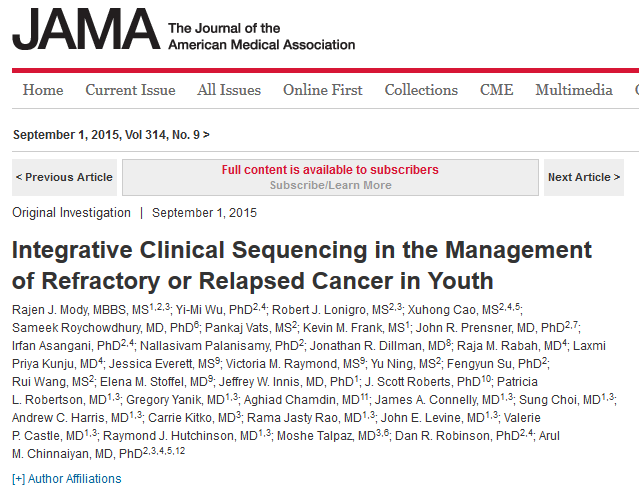 However, it also shows that widespread adoption of these advances must include broader knowledge with medical oncology teams in the context of genetic profiling and clinical trials. Additionally, the diagnostic laboratory has to be current regarding advances in sequencing technology and related bioinformatics, and also by the payers to acknowledge the benefits through reimbursement.
Mody et al1 started the Peds-MiOncoSeq study as prospective, evidenced-based approach for the treatment of childhood cancers in 2012. Since whole exome DNA and RNA sequencing was central to the precision model being tested, sufficient high quality tumor genomic DNA (>1 ug) and RNA (>1 ug) was required. NGS was performed at a CLIA-certified laboratory using paired-end sequencing on an Illumina HiSeq platform. A Typical Patient report is included in the supplemental materials of the online version1. Many of the sequencing QC metrics are reported there. The University established a Tumor Board to review and report the mutations, gene expression results and copy number variation; the Board provided guidance on treatment. The total cost for laboratory, including bioinformatic analysis, was $5,938 per patient.
The genetic profiling results from Peds-MiOncoSeq are quite amazing. Ninety-one (91) patients were enrolled with adequate tumor material, 42 fit into the category of medically targeted somatic mutations, and 23 of these patients had substantive actions taken for treatment. Most importantly, there was a therapy change for 14 patients and 2 had their disease diagnosis altered. The actionable mutations were in many of the usual driver genes including CDKN2A, NRAS, KRAS, CSF3R, FLT3, BRAF, NF1, JAK3, NOTCH1, MYC, MDM2, FGFR4, FGFR8, IDH1, SMARCB1, ALK and PDGFRA. Fusion transcripts were detected in the genes EBF1-PDGFRB, BCR-ABL1, SFPQ-TFE3, ATIC-ALK, LMNA-NTRK1, and ASPSCR1-TFE3. The authors report in detail on a number of specific cases such as an infant that identified LMNA-NTRK1 gene fusion as the cancer driver of the sarcoma which could be treated with NTRK1 inhibitors in clinical trials AZ64 AZ-23 from Astra Zeneca and AR523 from Array Biopharma or by crizotinib1.
The problems identified by the authors and in the editorial included a 53 day turnaround time which was due mostly to informatic analyses of the data. Also, the authors provide new evidence that rare childhood cancers are becoming even rarer due to genetic profiling and finding the best treatments requires additional clinical trials.
As I was reading through this seminal publication, it also occurred to me how our industry needs to advocate and support wide spread adoption to ensure all patients have access to this technology today. Also, how do we ensure quality results are reported for individual patients when these complicated technologies and assays have yet to be standardized and are still evolving?
Considering the cost to patients and families struggling with pediatric cancer, $5,938 is not a very high price.
References:
1. Mody RJ, Wu YM, Lonigro RJ, Cao X, Roychowdhury S, Vats P, Frank KM, Prensner JR, Asangani I, Palanisamy N, Dillman JR, Rabah RM, Kunju LP, Everett J, Raymond VM, Ning Y, Su F, Wang R, Stoffel EM, Innis JW, Roberts JS, Robertson PL, Yanik G, Chamdin A, Connelly JA, Choi S, Harris AC, Kitko C, Rao RJ, Levine JE, Castle VP, Hutchinson RJ, Talpaz M, Robinson DR, Chinnaiyan AM. Integrative Clinical Sequencing in the Management of Refractory or Relapsed Cancer in Youth. JAMA. 2015 314(9):913-25. doi: 10.1001/jama.2015.10080. PubMed PMID: 26325560
2. Schnepp RW, Bosse KR, Maris JM. Improving Patient Outcomes With Cancer Genomics: Unique Opportunities and Challenges in Pediatric Oncology. JAMA. 2015 314(9):881-3. doi: 10.1001/jama.2015.9794. PubMed PMID: 26325556