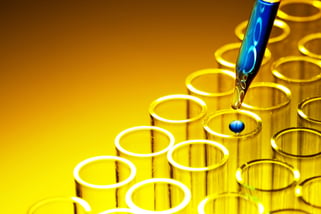 Clinical NGS tests may be powerful diagnostic tools for your molecular pathology laboratory, but they remain complex amalgamations of different hardware, reagents, and software systems — often from several different vendors and with different levels of quality. Only one of these critical reagents or systems has to fail or underperform in an assay to cause performance drift.
If you don't catch assay drift quickly enough, it can lead to assay failures such as false positives or unexpected changes to assay performance — such as those that impact limit of detection (LoD).
How can your lab protect itself better? Avoid these two common mistakes:
Mistake #1: You Are Not Running Proper Truth Set Reference Materials
Like a canary in a coal mine, reference materials can serve as an early warning system against degradation of assay performance for any clinical test and play an important role in your lab's risk management system. By running a truth set of reference materials with known variants and allelic frequencies alongside patient samples, you can monitor daily, weekly, and monthly variations to assay performance, catching assay drift before it causes costly errors in test results.
To assess drift in performance properly — whether it's in variant detection, resultant allele frequency, or another sequencing metric — your lab should use quantitative and highly-reproducible nucleic acid reference material mixes. But too often, labs will run either homebrew cell line admixtures or previously characterized remnant patient samples.
While these would be more than adequate to monitor the current assay run they're less accurate for measuring drift due to reagents or systems. This is because:
They vary, inherently, from batch to batch.

Most labs have a limited amount of any given remnant sample.
The ideal daily run reference material:
Is

highly characterized by orthogonal detection methods

.

Is

ensured to perform near identically in each and every run.

Has

superior lot-to-lot reproducibility

, enabling longitudinal performance tracking over longer periods of time.
Mistake #2: Your Quality Control Reference Materials Are Not Reflective of Assay Variant Types
Every time your lab brings on a new clinical NGS test, you conduct rigorous analytical and clinical validations to ensure accuracy, precision, reproducibility and test performance ranges. This involves assessing most of the clinically actionable variants as well as many of the different types of variants such as:
Single nucleotide variants (SNVs).

InDels.

Structural variants.

Copy number variants.
What you may be missing are reference materials that assess the breadth and variety of variant types.
The latest research shows that technical artifacts in sequencing can differ depending on the variant type — and this can be caused by either the wet- or dry-lab (bioinformatics pipeline). To properly monitor assay performance and guard against drift, your QC reference materials should be highly multiplexed and consist of a mixture of different variant types that you can monitor over time.
In cases in which you're deriving quantitative information from the assay, highly accurate quantitated reference materials at several allele frequencies above (and below) the limit of detection (LoD) may provide improved metrics on the assay variability and drift within each run.
Two Steps for Monitoring Assay Drift and Variability in Clinical NGS Assays
Step 1: Find a Commercial Source of Reference Materials
A commercial source of reference materials can save valuable time and money and provide a variety of reference material options for clinical labs looking to track performance over time.
SeraCare offers digital PCR characterization of all the variants of interest we provide; all products are manufactured under ISO- and cGMP-accredited facilities. We have 30 years of reference standard manufacturing experience — making your choice an easy one.
Step 2: Use Software Tools to Keep Your QC Data Organized
Choosing a consistently performing, broad mix of accurately quantitated variants for your assay tracking, you're well on your way towards an effective risk management system for your laboratory quality operations. However, you still need to organize this data so you can track it across time, users, instruments, and reagent lots.
If you use a Laboratory Information Management System (LIMS), you know that it takes specialized effort to extract this data scattered throughout SQL tables. In smaller laboratory operations without a LIMS, this data is scattered across shared spreadsheets, and sometimes, individual computers.
The SeraCare iQ NGS QC Management Software is an elegant solution to this data management problem. Its flexibility and power enable any clinical genomics laboratory to quickly track and monitor assay performance in an efficient and user-friendly manner across a wide variety of QC metrics.
How well-equipped are you to detect slight assay difference over time? Do you have the proper reagents and software in place as a sentinel warning system? Contact us and we'll talk about it.