Neurotrophic tyrosine receptor kinases (NTRK) can become abnormally fused to other genes resulting in growth signals that can lead to cancer in many organs of the human body. TRK gene fusion-based cancers are rare but present in pediatric and adult cancers such as lung, thyroid, colon, etc. (see, e.g., Figure 1). Anti-tumor drugs that target NTRK fusions have been shown to be largely effective across many tumor types regardless of patient age (adult or pediatric).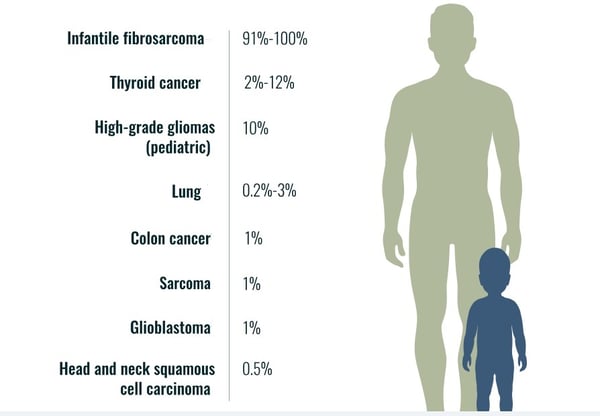 Figure 1: Estimated frequency of NTRK gene fusion in specific tumor types.[1]
New selective and targeted tyrosine kinase receptor inhibitor of the tropomyosin receptor kinases TrkA, TrkB, and TrkC are either in developmental stage (Entrectinib)[2] or recently approved Vitrakvi® (Larotrectinib)[3] for treatment of locally advanced or metastatic solid tumors with NTRK fusions without a known resistance mutation.[4] However, there is a dearth of NTRK fusion genes in many traditional solid tumor-based NGS targeted assays, which makes identifying patients that will benefit from these drugs by NGS testing a challenge. It also means that patient samples harboring NTRK fusions are extremely rare, thus hampering IVD development and compromising analytical validation according to CAP and CLIA guidelines.
NGS IVD vendors such as Illumina, Thermo Fisher, Archer, and others are expanding their NGS assays to incorporate RNA fusion analysis for NTRK genes. These new NGS assays will require analytical and clinical validation to support patient testing and eligibility for these anti-tropomyosin TKIs. The use of highly multiplexed, patient-like reference samples containing NTRK fusion genes will be critical in the development, validation and clinical testing by NGS assays of solid tissue biopsies (FFPE) of metastatic solid tumor patients potentially harboring NTRK gene fusions in clinical trial stratification and targeted therapeutic treatments. The availability of designed NTRK quality control materials will immediately help overcome the lack of NTRK patient samples.
Today, the key need is designing and manufacturing solid tumor FFPE RNA NTRK fusion reference standards under ISO 13485 (cGMP) to support clinical testing laboratories looking to bring on board NTRK fusion testing assays as companion diagnostic or complementary tests for these classes of anti-tropomyosin TKIs.
SeraCare, in partnership with Bayer, has recently developed a panel of 15 RNA-based NTRK fusion genes in an FFPE format.[5] This reference standard contains NTRK1, NTRK2, and NTRK3 fusion genes with known actionable fusion partners in the TRK pathway.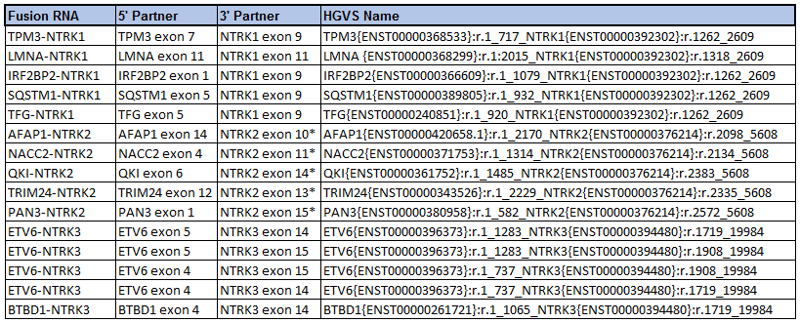 Figure 2: List of NTRK fusions in the newly released Seraseq® FFPE NTRK RNA Fusion reference standard.5
In conclusion, anti-tropomyosin tyrosine kinase receptor drugs targeting NTRK genes have moved expeditiously from developmental stage all the way to the market. This has opened up new opportunities for cancer patients harboring these fusions to have access to therapeutic drugs that may ultimately address their diseases. To facilitate this, labs require highly-multiplexed FFPE NTRK RNA fusion reference standards for end-to-end evaluation of NGS assays from development to validation, and routine QC runs of patient samples. These reference standards provide readily available materials for rapid assay development and provide confidence to regulators and clinicians that an assay can detect the fusions pairs it claims to detect.
---
To learn how SeraCare generated an RNA panel representing decreasing levels of 16 different RNA fusions and exon-skipping events compared to the total cellular RNA, click below.
Assessing Sensitivity of NGS RNA Fusion Assays Using a Multiplexed
and Well-Characterized Linearity Panel
---
[2] Ignyta Receives Orphan Drug Designation From FDA For Entrectinib For The Treatment Of Molecularly Defined Subsets Of Non-Small Cell Lung Cancer
[3] Discovered by Array BioPharma, licensed to Loxo Oncology for development, and Bayer as market launch partner.
[4] https://www.fda.gov/Drugs/InformationOnDrugs/ApprovedDrugs/ucm626720.htm
[5] https://www.seracare.com/Seraseq-FFPE-NTRK-Fusion-RNA-Reference-Material-0710-1031/