The annual meeting of the Association for Molecular Pathology will be held this year in Austin Texas from November 4-7, 2015. Laboratory Directors, Medical Directors and Pathologists worldwide will be hearing about the latest in clinical laboratory practices as well as the latest translational research being applied in the clinical setting.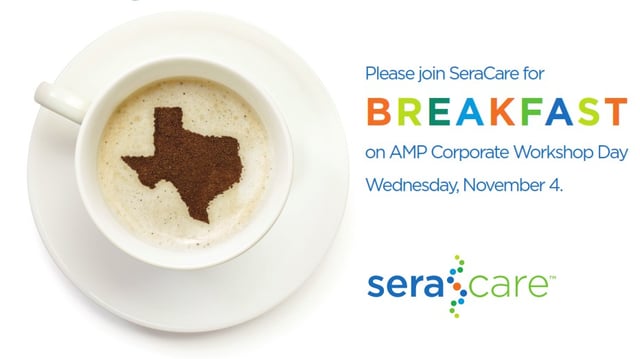 As per this conference's usual practice, the first day of this conference is set aside for corporate workshops, and SeraCare will be holding ours bright and early at 8am Wednesday Nov 4 in Room 15, Level 4 of the Austin Convention Center. Join us for breakfast, and hear a presentation entitled "Results from an Inter-Laboratory Study using Novel Biosynthetic QC Tools" and another one called "Patient-derived Xenografts as Models for Variant Detection". Be sure to bring a friend!
A few other presentations at AMP we're looking forward to include an early-morning panel discussion November 5, entitled "Disruptive Technologies, and Their Effect on the Traditional Molecular Diagnostics/Molecular Pathology Laboratory", led by Dr. Gregory Tsongalis, PhD, of the Dartmouth Hitchcock Medical Center and The Audrey and Theodor Geisel School of Medicine at Dartmouth (Lebanon, NH). A presentation later morning during the plenary session that should draw a lot of interest is "Bioinformatics and Genomic Medicine: A New Frontier for the Clinical Laboratory" by Colin C. Pritchard MD, PhD, University of Washington (Seattle, WA).
The following day (Friday) Dr. George Weinstock from The Jackson Laboratory for Genomic Medicine (Farmington, Connecticut) will give a plenary talk at 1:45pm entitled "The Human Microbiome in Health and Disease", that will be sure to be of interest, as microbiome research is a fast-moving field.
SeraCare's Dr. Seth Harkins will be presenting a poster called "Replicating Fetal Trisomy Patient-Like Reference Material for Use in Non-Invasive Prenatal Screening (NIPS) Test" (TT42) on Friday November 6 at 2:30pm, and at the same time Dr. Bharathi Anekella, also from SeraCare, will present "Use of Recombinant Virus Technology to Produce Non-infectious, Multiplexed RNA or DNA Virus Whole Process Controls" (TT46).
For all those with interest in social media, an early-morning session is planned on Saturday November 7 called "Twitter 101: Social Media Benefits for the Molecular Professional" that will be sure to be instructive.
Between 9:45am and 10:45am on Saturday Dr. Catherine Huang (SeraCare) will present the poster "Development of Highly Multiplexed, Semi-Quantitative Reference Materials for Somatic Tumor Mutation Profiling" (TT59) and Dr. Bharathi Anekella will present "Evaluation of Stability of Reference Materials for Infectious Disease Testing at Elevated Temperatures in Liquid and Dry States" (TT53).
Later that morning during a concurrent session, Dr. Roger D. Klein of The Cleveland Clinic (Cleveland OH) and Chair of the Professional Relations Committee of AMP will present "Overview of AMP's Proposal for Modernization of CLIA Regulations for Laboratory Developed Test Procedures".
Also be sure to come by to visit the SeraCare booth if you are in Austin, and ask us about an interesting stabilization technology from ViveBio (PDF) or our new products for Precision Medicine, including a sample program for oncology reference materials and non-invasive prenatal screening (NIPS).