Cancer research is purposely methodical and measured. So – somewhat paradoxically – it can be difficult to keep up with the steady stream of discoveries in the literature and presented at conferences like AACR. As a developer and manufacturer of platform-agnostic NGS reference standards, we're in a unique position to collaborate with cancer genomics assay developers, laboratories, pharmaceutical companies, and other organizations invested in more precise and robust cancer tests.
Here's a roundup of our and our collaborators' most recent scientific poster presentation videos which you can download for free via the links below.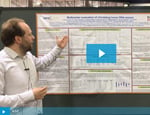 Multi-Center Evaluation of Circulating Tumor DNA Assays
In collaboration with the liquid biopsy-focused CANCER-ID Consortium, we evaluated performance between MassArray®, Droplet DigitalTM PCR, and multiple NGS assays using our multiplexed, patient-like Seraseq ctDNA reference standards. In this video, Field Application Scientist Dan Brudzewsky discusses our findings.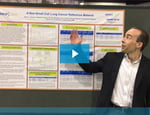 A Non-Small Cell Lung Cancer Reference Material
Field Application Scientist Andrew Anfora describes how we developed reference standards to help ensure the precision of EGFR mutation analysis by liquid biopsy, especially for challenging targets like T790M. Watch the video to see how assay developers and clinical labs can use these materials to challenge their dPCR, NGS, and RT-PCR ctDNA assays at or near their limits of detection.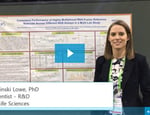 Consistent Performance of Highly Multiplexed RNA Fusion Reference Materials Across Different NGS Assays in a Multi-Lab Study
Gene fusions are getting much-deserved attention of late due to their association with many cancer types, but these mutations are often rare and difficult to obtain. Working with five external laboratories running various NGS assays, Senior R&D Scientist Dana Ruminski Lowe shows how our multiplexed (18 fusions) reference standards perform with inputs as low as 20 ng.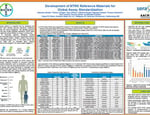 Development of NTRK Reference Materials for Global Assay Standardization
By now you've probably heard about the efficacy of drugs like larotrectinib in NTRK fusion-positive cancers, and you're likely aware of the push to test for these fusions. To ensure the accuracy and reliability of genomic testing for NTRK fusions, we worked with Bayer to develop a multiplexed NTRK fusion RNA reference standard and present performance data from the Archer FusionPlex Solid Tumor Kit and the Oncomine Comprehensive Assay in this poster.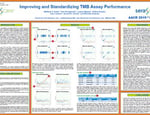 Improving and Standardizing TMB Assay Performance
Tumor mutational burden has emerged as one of the most promising biomarkers for checkpoint inhibitor therapies, but its measurement by targeted NGS assays is inhibited by a lack of standardization and reliable reference materials. This poster details our development of a panel of TMB reference standards and discusses the analysis of whole exome sequencing data for the purpose of assessing, harmonizing, and improving TMB measurements by NGS assays.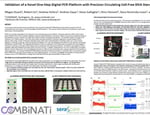 Validation of a Novel One-Step Digital PCR Platform with Precision Circulating Cell-Free DNA Standards
Digital PCR platform developer COMBiNATi used the Seraseq ctDNA EGFR T790M Mutation Mix to demonstrate that their novel technology can precisely quantify samples down to 0.1% allele frequency with high reproducibility and high accuracy. In this validation study, they ran a commercially available EGFR T790M dPCR assay on their prototype instrument.
These are just a few of the posters and videos you'll find on our NGS resources page. It's full of webinars, white papers, how-to guides, and other curated content designed to help you validate and operationalize your clinical genomics assays.