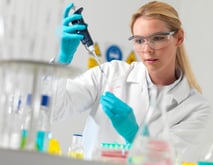 Due to either staff turnover or increased testing demand, your clinical genomics laboratory is expanding. You need your new personnel trained and ready to perform at the same high level as the rest of your staff as soon as possible.
You know that the best training programs are guided ones, with samples and workflows similar to those your new staff members will encounter on a day-to-day basis.
Are your remnant patient samples up to the task?
The Training Limitations of Remnant Patient Samples
Lab directors often use existing patient sample remnants to train new staff members, but these come with three significant limitations:
The samples, by definition, will be in limited supply

. To add to this, the patient samples you have in place are often needed for regular proficiency testing and re-validation, further decreasing your supply of samples for training.

The samples will likely only have a single mutation

. For a highly multiplexed assay (e.g. for a cancer genetic test), it may be only one of hundreds of potential mutations being tested for.

The stability of the sample will be unknown.

Sample stability depends upon factors outside of your laboratory's control.
With your lab expanding quickly, you can't afford to delay new member training several days, repeating a process because a pre-existing remnant sample has degraded or become otherwise unusable. You need materials with known stability, whether it's purified nucleic acid after multiple freeze-thaw cycles or a plasma sample.
A Better Way: Training With Commercial Reference Materials
You can address all three limitations of using remnant samples by using a commercial source of reference materials.
Commercial reference materials:
Can help train on the full process or parts of the process

Are consistent, reproducible and readily available

Will have many variants (from chromosome aneuploidy to dozens of point mutations, indels, and structural variants).

Have proven shelf-life stability of two years when stored under the proper conditions.
Precise quantitation by custom allele-specific digital PCR enhances training and performance measurements. Combined with stability that does not change over time, these materials can bring your newest contributors online quickly.
Bioinformatic Training at or Near the Limit of Detection
New algorithms for analysis of insertion-deletion mutations for cancer, or for greater sensitivity in calculating Z-scores for aneuploidy measurements, are published or updated frequently, or may change parameters to improve performance. Having these materials for training is invaluable for keeping your laboratory team up to date.
Testing your laboratory's proficiency periodically goes beyond the wet-laboratory work. By choosing materials with difficult-to-detect mutations or abnormalities near the limit of detection (LOD), you can generate datasets for training or evaluation of new bioinformatics tools or parameters.
Multiple Reference Material Formats for All Your Training Needs
With FFPE tissue, plasma, and purified nucleic acid formats, you can train according to your laboratory's standard operating procedures (SOPs) with well-characterized and stable materials. Bring your newest laboratory members online quickly by avoiding the inherent limitations of remnant patient samples.
Whether as synthetic plasma for NIPT or ctDNA tests, FFPE sections for different solid tumor NGS-based assays, or biosynthetic targets as purified DNA blends of mutations, SeraCare has what you need.
Contact us today for more information.